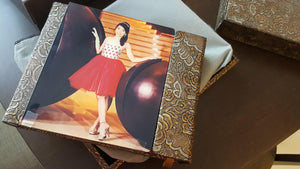 Ynah's 18th Birthday
I met Ynah when she was still in her elementary school years and she remained as sweet and simple through the years. Her love for music and arts has been an inspirations for us during the whole shoot... it was evident in the final edit of her MTV rendition of
Roar
. Here are some of the images we captured on her 18th Birthday celebrations at the New World Makati Hotel on March 8, 2014. Enjoy viewing and we hope to hear from you.
I am Ynah...
Michael... one of the brothers.
The ever supportive father (Chkee) in front and mother (Teena) at the back... uncles and cousins in between rendered a 90's dance number to the delight of her guests
Ynah... the Girl on Fire!
The beauteous Margot... production director, choreographer, emcee and coordinator rolled into one. :D  Our salute to your energy and talent mam.
during the rehearsals...
Pre event pictorial taken at the lobby of the New World Makati Hotel, Philippines.
the Loving Parents of the debutante...  Chikee and Teena.
---